Only the Information and Press Service of the Government (SIP) is entitled to supply the logotypes of the ministries, administrations and services of the Luxembourg state. Applications must be submitted to the SIP at logo.gouv@sip.etat.lu
The logotype of the Luxembourg government is made up of the red lion, inspired by that of the coat of arms of the Grand Duchy of Luxembourg, and the corresponding text:
THE GOVERNMENT OF THE GRAND DUCHY OF LUXEMBOURG
Ministry / Administration
Administration / Department
To ensure the logotype is harmoniously positioned within the layout, its position may be defined as follows: the height of the line of the logotype equals 9 units.
The minimum margin space to be left corresponds to 3 units.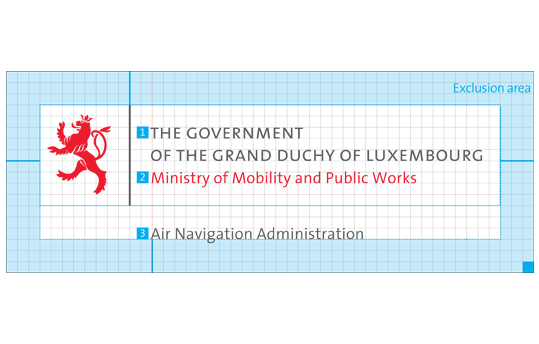 | | Character | Font Size | Lign Spacing | Pantone Colour |
| --- | --- | --- | --- | --- |
| 1 | Thesis Sans Semi Light, Caps, lower case | 27.4 pt | 28.4 pt | Cool Gray 11 C |
| 2 | Thesis Sans Semi Light, Plain | 21 pt | 28.4 pt | 485 C |
| 3 | Thesis Sans Semi Light, Plain | 21 pt | 42.4 pt | Cool Gray 11 C |